Fiber and Glass Collaboration Hits the Big Time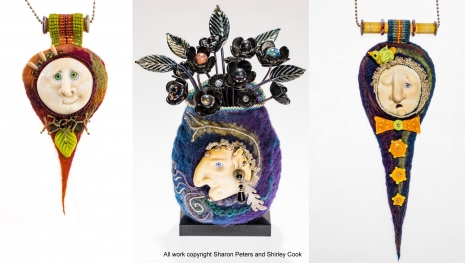 Responding to a call for entries announced by the ISGB in 2015, Sharon Peters and I created 6 collaborative works for the Hands of the Maker II exhibit. This was a challenging project, since our styles are so different from each other's. Sharon works mainly in primary colors, with a focus on whimsy; I'm an earthy organic kind of gal. After many lunch meetings during which we exchanged ideas and sketches, transferred glass parts, previewed the work in progress, and shared laughter and tears, we were ready to assemble one of the vessels to be photographed. We submitted the vessel and 2 jewelry pieces through the jurying process, waited on pins and needles, and were eventually rewarded with the good news; our work would be included in the exhibit at the RHINO gallery in New Orleans!

Fast forward a year, "The Flow" magazine put out a call for submissions for their collaborative issue. How could we resist? Sharon wrote up the article, and we submmited it along with the photos. Thank you, "The Flow", for the wonderful two-page spread in your Fall 2017 magazine!

And lastly, Felt United day occurs every year in October. Early in the year, they announce the theme for the upcoming event. Wouldn't you know it, the Felt United 2017 theme was "collaboration". I was excited to post the work that Sharon and I created, and it was a hit! Shortly after that, Martien van Zuilen, the editor of "Felt" magazine from Australia, contacted me about our collaboration. And I'm thrilled that our work will be published in their upcoming June 2018 issue!

Here are a few of our works from this collection.